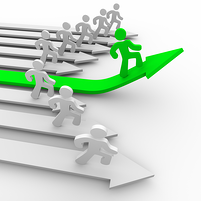 An inefficient supply chain leads to many issues, among them excess and inactive items, lower than desired customer service levels, out of stocks, higher transportation costs, lost sales and employee and customer dissatisfaction. These inefficiencies result from the lack of proper planning tools, no inventory strategy, poorly trained inventory planners, lack of management support, incomplete inventory visibility, and or unrealistic goals.
Competitive markets add to the challenges as they drive demand volatility, increasing number of new SKUs, hyper-responsiveness, off-season promotions, vendor shortages, e-commerce and more. It seems as though everything is attacking your company from every angle. An appropriate adage for this situation is "the best defense is a great offense." Mao Zedong (Mao Tse-tung) stated that, "the only real defense is active defense", meaning defense for the purpose of counter-attacking and taking the offensive. Often success rests on destroying the enemy's ability to attack. This principle is paralleled in the writings of Machiavelli and Sun Tzu (The Art of War).
Good or improving Inventory planning should incorporate key fundamental processes from forecasting to inventory rationalization and optimization, efficient and effective replenishment planning, improving vendor relations, an inventory strategy blueprint. If you are not using an advanced inventory planning solution, you should start immediately. A company must be proactive in planning and managing an inventory. Utilizing spreadsheets as the only means for planning is not a strategy or a dynamic model. It harkens to the day of shared phone lines and rotary phones. Part of your inventory strategy should be acquiring and using modern planning solutions that be used by anyone in your organization, from planners to finance to the C-level executives.
What can you expect from using an advanced inventory planning solution is the following set of goals:
Increase and achieve customer service
Drive more profitability
Decrease excess inventory
Improve availability regardless of season or time
Build a stronger competitive advantage
Enhance the user experience
More satisfied employees as they continually improve service, cost containment, and can do their job easier and more effectively. They are happier as they achieve their goals and make a positive impact on the company's bottom line.
Financial Implications
Reducing inventory investment must be done correctly so as not to negatively impact sales and service. The cost displacement argument of inventory reduction is compelling. Certain advanced inventory planning solutions provide a dynamic analysis of Current Inventory Investment vs. Optimized (Ideal) Inventory Investment, which is a CFO's dream.
For example, one customer case study showed they had a current inventory value of approximately $5 million. The optimized or ideal inventory value was projected close to $2.5 million. In most companies, that excess of $2.5 million or a majority of it, is typically taken directly out of a credit line or facility with an annual cost today of 3.5% - 4%, this demonstrates the hard dollar cost displacement argument.
Often, CFO's and owners can be unintentionally misled as to how much inventory they need to maintain by operations, their Sales, and even sometimes their suppliers. At one distributing company, a main supplier was constantly telling them they needed to buy more stock. However, in this case the supplier was manipulating their sales and inventory levels by pushing it down to the misinformed distributor. The dynamic optimized inventory investment analysis uses real life, trailing 12-month sales history to help protect against this type of practice.
To further understand the positive impact from using an advanced inventory planning solution, consider the following ROI correlation with a company's financial statements.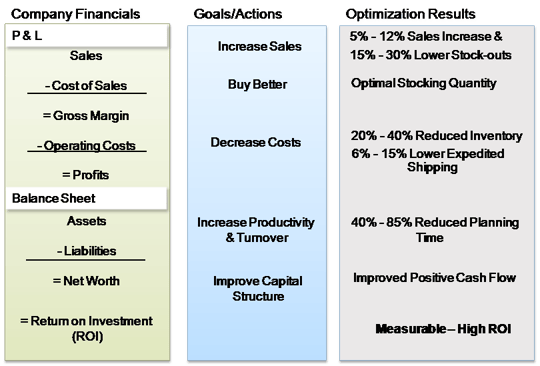 The left box presents the P&L and Balance Sheet at a high level. The center box shows the action and processes associated with each line item of the financial statements. The right box displays the corresponding savings with each item by using inventory planning and optimization.
Using this chart as a guidepost, a company can set realistic inventory goals in line with their corporate objectives. Clearly, the identifiable positive gains made by using advanced inventory planning and optimization make it an easier business proposition. There is no downside to employing these advanced systems – it is all upside.