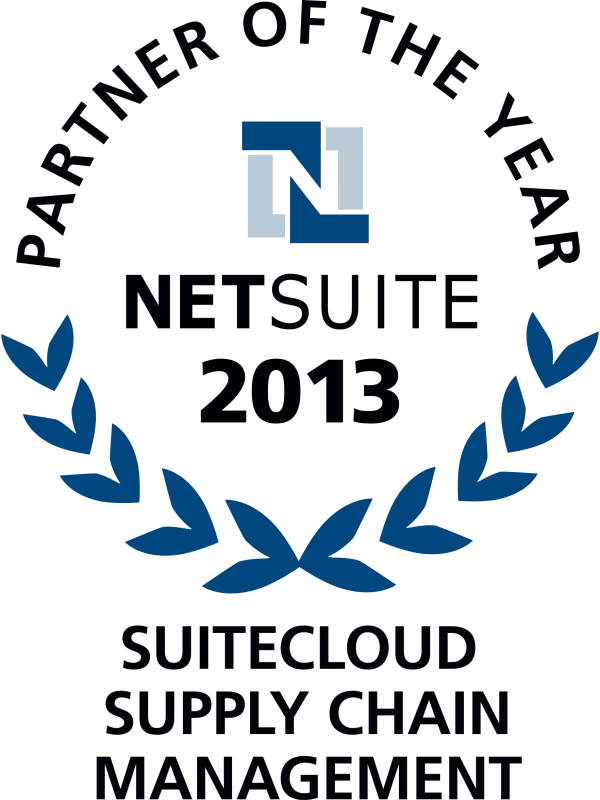 NetSuite inventory management software offers a complete set of inventory management, manufacturing, and purchasing capabilities that improves supply chain management and delivers an end-to-end, procure-to-pay process.
NetSuite demand planning capabilities enable inventory management and lean business operations. Purchasing and inventory managers can calculate demand based on historical data, sales forecasts, average trends, and seasonal fluctuations. NetSuite demand planning gives you full flexibility and control in manually setting timeframes, preferred stock levels, and other parameters. Close the loop by generating supply plans, creating, and executing purchase and work orders seamlessly.
As your business grows, you may need to explore how advanced inventory planning and optimization can take your business to the next level. Valogix, a global award-winning partner of NetSuite, has developed a specialized multi-stage planning engine that more effectively manages inventories.
VALOGIX® Inventory Planner simultaneously plans for items needed both in the manufacturing (production) process and sold separately as finished goods. This smooth-flow process is unique because it accurately plans the independent inventory based on its own parameters and demand. Most planning techniques for finished goods were borne out of the manufacturing process, which leave gaps in inventory coverage for distributors and retailers.
The on-going and ever-changing challenge
Inventory management and planning is getting more difficult due to rapidly changing demand patterns, the ever-increasing numbers of SKU's and higher transportation costs. Even more challenging is effectively planning items that are commonly used in:
production
kits (kitting & assembly)
distribution & retail
Production - Manufacturing Requirements Planning
Based on known production master schedules, determine when to order inventory to
support assemblies/production schedules.
Traditional Material Requirements Planning (MRP) works very well with dependent demands from manufacturing orders only. It works with a time-phased planning approach to manage the back scheduling and creates an even flow of inventory.
A major objective is the reduction of lead-time for demand signals to traverse the internal
supply chain.
A second objective is prediction of major "bullwhips" when multiple locations submit nearly
simultaneous replenishment orders to the same supplying warehouse, rather than
spreading these orders out uniformly across time.
There is a Parent\Child relationship that is inherent in the planning process. Additionally,
Substitutes and Supersedes further complicate a difficult process. This is also generally
true for "kitting".
Inventory Planning for Finished Goods
Mostly, based on unknown (but forecasted) demands, determine when to re-stock items in inventory by location.
MRP logic has been adopted for Distribution Requirements Planning (DRP), but it does not combine well with manufacturing needs due to:

a mismatch of bucket sizes for production and distribution,
lack of the planning horizon "look ahead" needed for the stocking quantity processing,
and complexities in determining the order of processing,
dramatic demand variability.

Other inventory ranking type models, from ABC to Gordon Graham, developed in the early 1970's are outdated with today's technology advances and the need for more dynamic, demand sensitive planning.
The ability to properly manage the bullwhip effect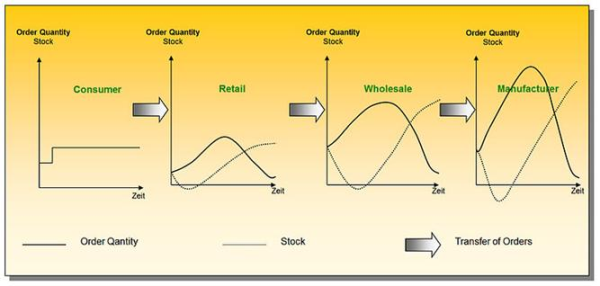 The Bullwhip Effect
The bullwhip effect is a phenomenon in forecast-driven distribution channels. Demand variability increases as you move (or back) up the supply chain away from the retail customer. Small changes in demand can result in large variations in orders placed upstream. Eventually, the network can oscillate in very large swings as each group in the supply chain tries to solve the problem from its own perspective. The bullwhip effect and has been observed across most industries, resulting in higher costs and poorer service.

Valogix automates the entire inventory planning process:
Forecasting & Planning – every item at every location
Stock Level Setting – considers forecast, lead time, order frequency,
desired service level and variability in demand
Replenishment - Purchase Orders, Production Orders, Stock Transfers
Optimization – cost reduction & control - strategic planning analytics
Easy to use and highly effective
Avoids disruptions from costly stock-outs
Exception based – alerts warn of potential future issues
Planning Groups give unparalleled planning control & flexibility
Time-phase plans all items at all locations simultaneously
Items used in B.O.M.s and Kits as well as those sold independently
Back-schedules to cover longest lead time of components
Considers substitutes and supersedes
Synchronized planning for smooth-flow inventory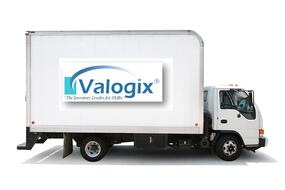 VALOGIX CAN HELP!