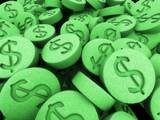 Happy St. Patrick's Day! In honor of the little green guy, we're kicking off our series on Growing Green with Inventory Planning from Valogix.
It seems like an unlikely relationship – being "green" and inventory optimization but consider this; if you reduce the amount of time it takes to complete inventory planning and optimization, it only makes sense that you would spend less time on your computer.
Processing thousands of records in minutes, rather than hours or days makes more efficient use of the planner's work and computing time. By reducing computing costs, you reduce energy consumption and decrease your carbon footprint.
Everything we do improves critical business processes through automation, intelligent optimization, processing speed and rapid implementations. You achieve measurable results quickly and continue to see benefits and improvements every day, month-after-month, and year-after-year.
Lowering costs, reducing expedited shipping and planning time, eliminating waste, reducing computer utilization: a smaller, greener carbon footprint.
See more on Growing Green on our website. There you can download PDFs, an inventory calculator, view a survey and download an ROI tool courtesy of IBM and Aberdeen Research and dozens of customer case studies who have saved millions of dollars by streamlining their inventory planning processes with Valogix.
How much could you save?