If you're a technology nut, you've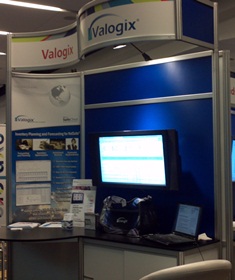 probably heard about SuiteWorld, NetSuite's premiere conference for all things cloud.
Nearly 2,000 people from all over the world attended the three-day event and many of the sessions were so full that attendees had to stand! They promised to reserve more space for their conference in San Francisco in May 2012.
Valogix was a silver sponsor for SuiteWorld. Tom Glacken, our Senior VP of Sales & Marketing was there, showing off the latest and greatest for Valogix - our cloud-based inventory planning and optimization solution. He met several customers and partners, and loved the face-to-face interaction.
Tom remarked, "SuiteWorld provided an excellent opportunity to meet with NetSuite employees, NetSuite Partners and NetSuite users. The sessions were organized well and very informative. The number contacts we made exceeded my expectations. Overall it was an excellent event."
Want to know what went on at SuiteWorld? Check out the SuiteWorld website for pictures and information.