Is your company taking advantage of the tax legislation signed into law last December? If you're not, you're not alone.
Combining these tax incentives with business and inventory optimization systems, companies are provided a rare and short-lived opportunity to boost after-tax profits while reinvesting and growing their businesses. These incentives expire at the end of this year, so don't wait any longer!
On Thursday, June 30 at 2:00pm EST, join experts from KPMG, Aberdeen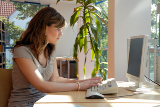 Group, Valogix and EntryPoint Consulting as they discuss how to use these current tax incentives to boost your bottom line.
The expert panel includes:
Nick Canitano, Managing Director - Tax Services at KPMG:
How to use the tax, accelerated depreciation and other business benefits of the legislation to your advantage.

Rich Vaccaro, President & CEO at Valogix:
How inventory planning and optimization can produce up to a 20% reduction in inventory to free up capital.

Kevin Prouty, Research Director - Enterprise Applications at Aberdeen Group:
Hard-hitting analysis on the performance of Best-in-Class technology adopters vs. industry average and laggards including recommended actions.

Pete Martin, President & CEO at EntryPoint Consulting:
Pulling it all together by illustrating how business incentives, combined with inventory/supply chain optimization and investments in new business systems in 2011, can produce an after-tax positive cash flow.
This is a once in a lifetime opportunity to learn how investing in your business can actually produce a near-term, after-tax positive cash flow. Don't believe it? Attend this free webinar and we will prove it to you. You've got nothing to lose! Space is limited so register today.