Section 179 Investment Tax Incentive – 2012 – US Only.
In these challenging economic times, it is important to make use of every tool available to cut costs and improve after-tax profits. You may have the ability to deduct a large percent of your investment in IT, meaning hardware and software purchases made by December 31, 2012.
Section 179 of the Business Tax Provision of "Tax Relief, Unemployment Insurance Reauthorization and Job Creation Act of 2010" extended the Bonus Depreciation.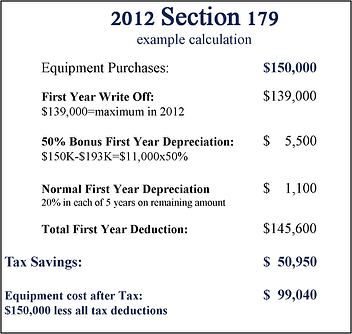 Essentially, Section 179 of the IRS tax code allows businesses to deduct the full purchase price of qualifying equipment and/or software purchased or financed during the tax year. That means that if you buy (or lease) a piece of qualifying equipment, you can deduct the FULL PURCHASE PRICE from your gross income. It's an incentive created by the U.S. government to encourage businesses to buy equipment and invest in themselves.
When your business buys certain items of equipment, it typically gets to write them off a little at a time through depreciation. In other words, if your company spends $50,000 on a machine, it gets to write off (say) $10,000 a year for five years (these numbers are only meant to give you an example).
Now, while it's true that this is better than no write off at all, most business owners would really prefer to write off the entire equipment purchase price for the year they buy it.
In fact, if a business could write off the entire amount, they might add more equipment this year instead of waiting over the next few years. That's the whole purpose behind Section 179 - to motivate the American economy (and your business) to move in a positive direction. For most small businesses (adding total equipment, software, and vehicles totaling less than $139,000 in 2012), the entire cost can be written-off on the 2012 tax return.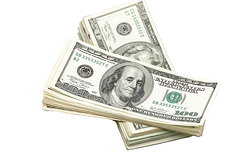 Limits of Section 179
Section 179 does come with limits - there are caps to the total amount written off ($139,000 in 2012), and limits to the total amount of the equipment purchased ($560,000 in 2012). The deduction begins to phase out dollar-for-dollar after $560,000 is spent by a given business, so this makes it a true small and medium-sized business deduction.
After passage of the 'Tax Relief Act of 2010', large businesses that exceed the threshold of $560,000 in capital expenditure can take a Bonus Depreciation of 50% on the amount that exceeds the above limit.
Here is what is allowed:
2012 Deduction Limit = $139,000
This is good on new and used equipment, as well as off-the-shelf software.
2012 Limit on equipment purchases = $560,000
This is the maximum amount that can be spent on equipment before the Section 179 Deduction available to your company begins to be reduced.
Bonus Depreciation = 50%
This is taken after the $560k limit in capital equipment purchases is reached. Note: Bonus Depreciation is available for new equipment only. Bonus Depreciation can also be taken by businesses that will have net operating losses in 2012.
We highly recommend you check with your financial officer and or accountant to determine if this is right for your business. It does not appear, at this time, that the U.S. Congress will extend or create a new similar incentive.

NOTICE
ANY TAX ADVICE IN THIS COMMUNICATION IS NOT INTENDED OR WRITTEN BY VALOGIX TO BE USED, AND CANNOT BE USED, BY A CLIENT OR ANY OTHER PERSON OR ENTITY FOR THE PURPOSE OF (i) AVOIDING PENALTIES THAT MAY BE IMPOSED ON ANY TAXPAYER OR (ii) PROMOTING, MARKETING OR RECOMMENDING TO ANOTHER PARTY ANY MATTERS ADDRESSED HEREIN.
The information contained herein is of a general nature and based on authorities that are subject to change. Applicability of the information to specific situations should be determined through consultation with your tax advisor.