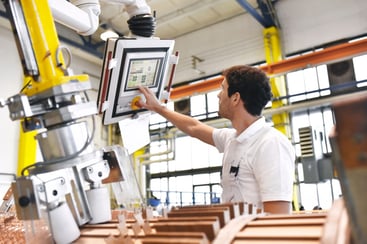 Manufacturing companies are being forced to be innovative and resourceful to compete in today's global marketplace. More and more manufacturers not only produce goods used by other manufacturers, they also sell their products and components to distributors and consumers. The use of e-Commerce has risen dramatically and so have the challenges for managing both production and finished goods inventories. Spreadsheets and manual reports cannot effectively account for all the variables. Errors are highly common with subsequent poor results. Supply chain disruptions due to a variety of uncontrollable factors, like the COVID-19 pandemic, require the use of intelligent, automated tools for inventory planning.

Manufacturers are under constant pressure to increase accuracy, make process speed a competitive force, and capitalize on their internal intelligence and knowledge to make every supplier, distributor and service interaction count. Cloud-based strategies give companies the chance to bring their own innate intelligence and knowledge into every sales situation. While on--premise systems could also do this, cloud-based inventory planning systems were quicker to roll out, easier to customize and showed potential to increase adoption rates across resellers.
The ever-changing challenge:
Inventory management and planning is getting more difficult due to rapidly changing demand patterns, the ever-increasing numbers of SKU's and higher transportation costs. Even more challenging is effectively planning items that are commonly used in production, kits (kitting & assembly), and distribution & retail/e-commerce.
These means that many items in inventory are not only used in a Bill of Materials (BOM) or kits but are often sold separately. A planner has to account for both the dependent and independent demand, substitutes and superseded items, new items, and if they have several locations the task becomes almost insurmountable.
Production - Manufacturing Requirements Planning
Based on known production master schedules, determine when to order inventory to




support assemblies/production schedules.

Traditional Material Requirements Planning (MRP) works very well with dependent demands

from manufacturing orders only. It works with a time-phased planning approach to manage

the back scheduling and creates an even flow of inventory.

major objective is the reduction of lead time for demand signals to traverse the internal

supply chain.

A

second objective is prediction of major "bullwhips" when multiple locations submit nearly

simultaneous replenishment orders to the same supplying warehouse, rather than spreading

these orders out uniformly across time.

There is a Parent\Child relationship that is inherent in the planning process. Additionally,

Substitutes and Supersedes further complicate a difficult process.

This is also generally tru

e

for "kitting".
Finished Goods Inventory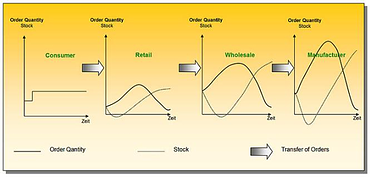 The bullwhip effect is a supply chain phenomenon in forecast-driven distribution channels. Demand variability increases as one moves up the supply chain away from the retail customer, and small changes in consumer demand can result is large variations in orders placed upstream. Eventually, the network can oscillate in very large swings as each organization in the supply chain seeks to solve the problem from its own perspective. The bullwhip effect and has been observed across most industries, resulting in higher costs and poorer service.
Moving back in the supply chain from end-consumer to raw materials supplier, each supply chain participant has greater observed variation in demand and thus greater need for safety stock. In periods of rising demand, down-stream participants increase orders. In periods of falling demand, orders fall or stop, thereby not reducing inventory. The effect is that variations are amplified as one moves upstream in the supply chain (further from the customer).
Intelligent advanced inventory optimization solutions can handle this extremely complex planning process. If planning for multiple locations and or countries, the task is impossible without an advanced solution.
Inventory Planning for Finished Goods & Spare Parts
Mostly, based on unknown (but forecasted) demands, determine when to re-stock items in inventory by location.

MRP logic has been adopted for Distribution Requirements Planning (DRP), but it does not combine well with manufacturing needs due to:

a mismatch of bucket sizes for production and distribution, lack of the planning horizon "look ahead" needed for the stocking quantity processing,

and complexities in determining the order of processing,

dramatic demand variability.
Other inventory ranking type models, from ABC to Gordon Graham, developed in the early 1970's is outdated with today's technology advances and the need for more dynamic, demand sensitive planning solutions.

The ability to properly manage the bullwhip effect
The MRP Overview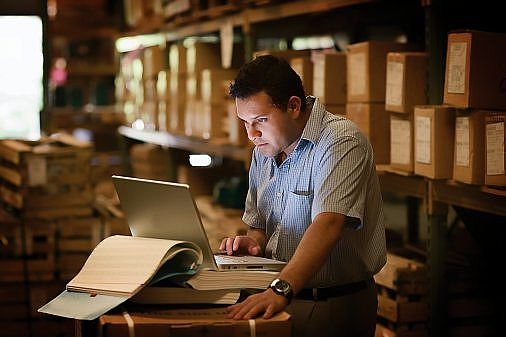 The basic purpose of Material Requirements Planning (MRP) is determining how much of which products needs to be either manufactured or purchased based on it being a component or ingredient of another item. MRP also determines when the product is required. Every item can have either Independent Demand or Dependent Demand.
Independent Demand

is based on an item being an end product of a manufacturing facility. Independent Demand would include end products that are sold directly to customers or distributors, spare parts that are sold to repair shops or customers, supplies that are sold directly, etc.

Dependent Demand

is based on an item being used, in the manufacturing process of making other items. This might include raw materials, purchased parts, sub

-

assemblies, or complex parts that ar

e also themselves

manufactured or assembled. The Parent (P) is the high

-

level assembly and the Children (x) & Grand Children (y) are the components that are used to make the finished product.
MRP Inputs
Forecasts are created for the finished goods. These forecasts can either be generated statistically from historic demand or as sales projections or both.

Planned Orders are either firm sales orders from customers or other manufacturing orders requiring the product to be planned as an input

Back-scheduling

ensures

that the longest lead time of the components (children) are accounted for
Bill of Materials (BOM) is the document that articulates each input item, along with a quantity and whether the item will be accounted for automatically issued for the production process.
MRP Outputs
"Recommended Production Schedule". This lays out a detailed schedule of the required minimum start and completion dates, with quantities, for each step of the Bill of Material required to satisfy the demand from the Master Production Schedule (MPS). To find out more:
'