UK Laboratory Equipment Distributor
For the past 11 years, Camlab has been on a consistent growth track. Eleven years ago, they acquired Patterson Scientific Ltd, combining inventories for total of 40,000 SKUs and a value of ₤1.6M (approximately US$2,400,000). Housing the stock at a central location was an ex-pensive and time-consuming task. "We knew we had a major issue with redundant, dead and out of date inventory. But our software continued to recommend purchasing additional stock of the same items," comments Maurice Riley, Operations Manager at Camlab.
Several months after the merger, the purchasing staff was still manually manipulating spreadsheets to rebalance the inventory. They had managed to significantly reduce their investment to ₤800'000 (approximately US$910,000) through write offs and attrition; however, they knew there had to be an easier and more efficient solution.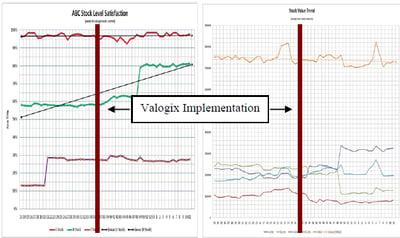 "We spent at least 8 hours a day sorting through spreadsheets to manually approve or delete the purchase orders our software was recommending," notes Maurice. "Even spending a whole day, every day of the week was not enough time to get it all done and the process was laden with errors."
Desperate for change, Camlab reached out to their warehouse soft-ware consultant, Balloon One, distributor for VALOGIX® Inventory Planner in the UK.
As seen in the graphs above, beginning at week 35 when Valogix was implemented, Camlab experienced a dramatic increase in service levels across all lines while realizing a 7.5% decline in overall inventory value down to ₤740,000 (approximately US$841,000). Dead inventory, once valued at ₤384'000 (approximately US$436,352) experienced a decrease of nearly 50% in just six months and is now at just ₤202'000 (approximately US$229,539).
In addition to spending and inventory reductions, Camlab has seen enormous gains in productivity. What was once a job that consumed every day of the week is now a 10-hour a week process. Camlab estimates they save approximately 30 hours a week.
Distributor for the Food Additives Market Achieves High ROI from VALOGIX® Inventory Planner
When ACUMEN Corporation's customer, Industrial Commodities (ICI), a leader in the highly competitive food additives market-place, started looking for the right ERP system, they looked for the best partner and the best software to implement to manage their 21 individual warehouses. Ultimately, they selected SAP® Business One with VALOGIX® Inventory Planner based upon software functionality, tight integration of the products and ease of use, along with the expertise and track record of ACUMEN.
Rick Crowder, VP and General Manager says, "My partners and I have built our successful and growing business on delivering the very best service to an increasing number of customers around the country. And that service is based on having the right inventory available when their customers need it, and to have it delivered economically from the closest warehouse."
Because of SAP and Valogix, ICI has been able to eliminate hundreds of spreadsheets previously used to track sales and purchases in each of their warehouses. Eliminating these spreadsheets saved more than three hours per day of tedious manual effort, saving money and allowing their staff to concentrate on other areas of the business. And finally, customer satisfaction has increased due to having the correct mix of items in the right locations when needed.
McDonald Dash Locksmith Supply
Locksmith Distributor Locks in Big Savings with VALOGIX® Inventory Planner
As a wholesale distributor of locks, locksmith supplies and door hardware, McDonald Dash stocks more than 12,700 items. The 65-year-old distributor, located in Memphis, Tennessee also stocks key blanks, key machines, alarms, door closers and commercial security items.
Like many businesses, McDonald Dash planned inventory with Excel spreadsheets and intuition. Achieving balance with an inventory of almost 13,000 items was a daily challenge and often ended in sales promotions to move excess stock off the shelves.
After seeing a demonstration of VALOGIX® Inventory Planner at a software conference, Phil McBee, Controller for McDonald Dash knew it would make a big impact on their planning processes as well as on their inventory investment.
"When BTM Solutions, our local software distributor was hosting a SouthWare user conference (McDonald Dash's ERP solution), I jumped at the opportunity to bring president Jim Thomas to see the Valogix product demonstration," remarks McBee. "I knew once he saw the ease of use and dramatic impact on our bottom line, he'd be sold; and he was."
It was only a matter of months before McDonald Dash started to see results. "In a very short time, less than three months, we were able to reduce overstocks and excess inventory by nearly 10%, and planning time has been dramatically reduced," says McBee. "Freeing up valuable time allows us to work on other areas of the business, like responding to customer inquiries and fulfilling sales orders."
Get your inventory rolling today with Valogix!