VALOGIX Solution for NetSuite Demand Planning
The Valogix Advantage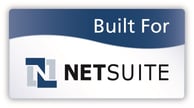 VALOGIX® Inventory Planner is seamlessly integrated into Netsuite, providing automated demand planning forecasting, replenishment, and optimization at the tips of your fingers.
VALOGIX Planner gives you instant visibility to all warehouses, field stock, customer locations, and everything in between. Optimization provides exceptional value by reducing inventory, controlling new purchases and improving customer service.
From a Valogix Customer:
"With Valogix and NetSuite, we have a much more accurate picture of what our inventory needs are going to be at any given time than we had in the past," LeBrun said. "Valogix knows what inventory we have on hand, what's on order and accurately recommends the next replenishment. It's an impressive solution."

Blake LeBrun Operations Manager,
Saddleback Leather
Whether On-premise or in the Cloud -
Valogix brings you measurable value and additional revenues!